It shouldn't look like this !!
Posted: Sat Jul 18, 2020 5:03 pm
When a new lower ball joint on the wishbone, moves, as the splines are worn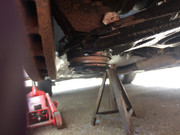 Not going anywhere, as it's held by the pinch bolt, but this will rub on the wishbone

Solution, replace the wishbone for a new one,
Will was job One
Job Two, found the outer CV boot had a split in.
This was changed, without removing the driveshaft

or using a spit boot.
Job Three, changed the flexi Brake pipe.
Taking advice, Dick Dastardly to "unscrew the flexi pipe from the solid metal pipe, not the other way round, or your risk damaging the metal pipe".
Well it does work, thank you Mike

Kit